Did you know?
Cardiol is the third mostly viewed in the world (
A comparison made with the main international websites of Cardiology revealed that the BSC portal (www.cardiol.br) ranks three in the number of accesses in the world, ahead of the European Society of Cardiology (ESC).
According to the results obtained by the most reputable website traffic measurements, the Alexa website, the BSC portal ranks three, in a technical draw with the American College of Cardiology (ACC) website, second in the ranking (see chart).
The comparative survey was based on the web pages of renowned entities, such as ACC, the American Heart Association, and the ESC itself, and compared to the website of BSC.  According to the results, Cardiol is a benchmark in the search of information on subjects connected to Cardiology, standing out in the international scenario.
This ratifies the excellence of the organization in disseminating health contents. Another important evidence is the fact that some societies, including from other specialties, contact BSC to learn more about the technology used, especially those earmarked for virtual continuing education.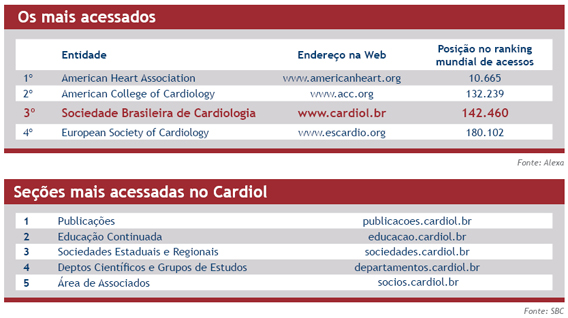 Source: BSC Journal 93 — May/June 2009
_____
Updated on June 23, 2009